We headed to Amarillo to visit with my dad. About 30 minutes south of Amarillo is Palo Duro Canyon. In past years we had talked about camping there, so this time we decided to give it a try. We were able to get a site and enjoyed our time there, but it was west Texas in June and rather hot.
Palo Duro Canyon
Our campsite.
This guy and his harem walked through our campsite.
Jeanie on one of the trails.
When we got to Amarillo, we had a nice visit with my dad, who was busy talking to insurance companies and estimators about replacing house damage from the recent "golf ball" sized hail storm.
While we were there we had lots of wind and some tiny hail several times, so we were happy when we pulled out without incident.
A few years ago we visited Silverton, Colorado on the train and this trip we wanted to spend a little time there. Silverton is at 9,318 ft, so we had brisk mornings of 39 degrees, but beautiful daytime weather.
We found a wonderful trail called the Ice Lake Trail. It was 7 miles round trip and gained over 3000 ft. in elevation to 12,200 ft. We had not been hiking for a while, so it took us two days to recuperate.
About half way up the Ice Lake Trail.
Up to the snow line on the trail.
Lots of Columbine along the trail.
From Silverton, we drove north to Ridgeway over the Million Dollar Highway – a switchback with sheer dropoffs.
We next stayed at Ridgeway State Park because our Teton friends, Sue and Ted, were working there as camp hosts. We enjoyed a few days of visiting and visited the mountain town of Ouray.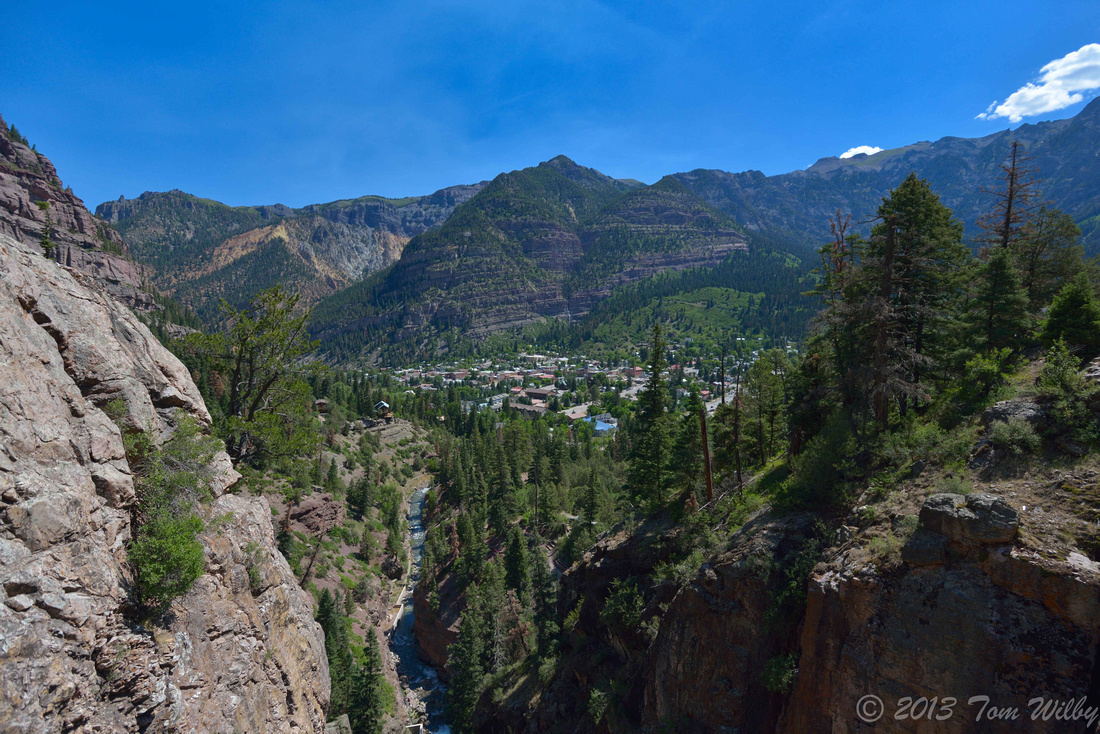 Ouray.
Tom.
Jeanie, Sue and Ted.