It's been 20 years since our last visit to New Hampshire. We had good memories of the White Mountains, so we were anxious to see if this return visit would live up to our expectations. It did. We stayed in Twin Mountain at the same RV park we liked in 1995. We found some good hiking trails and, of course, the scenery was amazing.
We were rewarded with this view after a mountain hike.
We had nice dinner at the Mount Washington Hotel in Bretton Woods. Opened in 1902, today it's one of the last "grand hotels" in the White Mountains.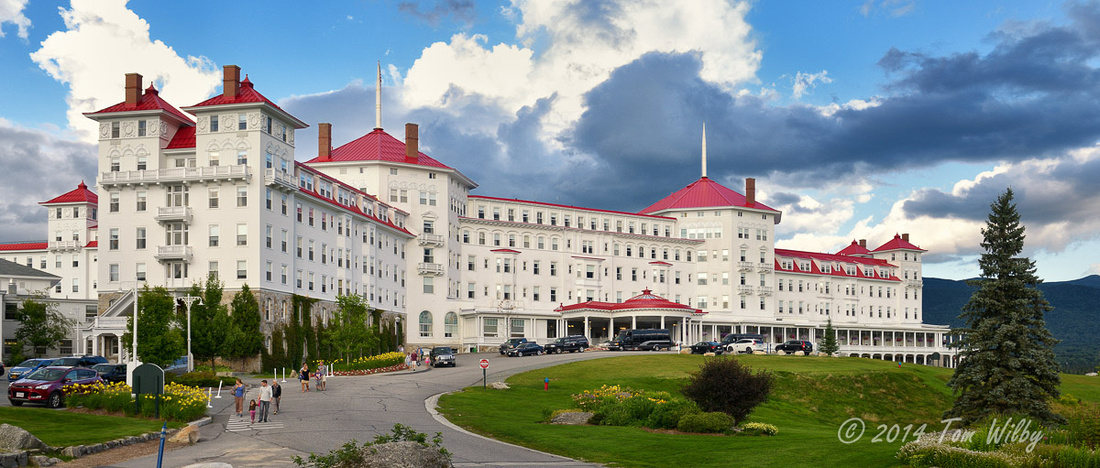 Mount Washington Hotel is a sight to behold.
Inviting lobby of Mount Washington Hotel.
Hotel veranda looking out to Mt. Washington.
Tom's cousin Peggy and her husband Wells have a summer camp on Long Lake in Maine, so we moved on to Naples, Maine to be close by. Peggy and Wells spend the summers at their camp along with a steady flow of family and friends. Our timing was great as Tom's cousin Phil (Peggy's brother), his wife Madelyn, and family were staying at another camp nearby. We had a wonderful visit with cousins we rarely get to see.
Peggy and Wells' summer camp. (Camp refers to a house not winterized.)
Peggy and Wells getting the ski boat ready to go.
Peggy heading out for a ski.
Phil getting some sun.
Tom got some rare shots of loons fighting for territory.
Loon posturing (called the penguin posture).
We joined friends, Phil and Connie, in the Bangor area for a few days. Weather was sketchy, but we did a little sightseeing before they had to move on.
Jeanie, Connie and Phil in Bucksport.
A shop in the country.
We went on to Bar Harbor where we spent two weeks hiking and sightseeing (and eating lobster rolls). There is so much to see on Mount Desert Island and the Acadia National Park. Around every bend in the road is another breathtaking view.
View of Bar Harbor from Cadillac Mountain (1530 ft.).
A view from the cliff walk.
A beach in the park.
Lots of boating.
Hiking in the park.
One of the famous carriage roads in the park.
Maple leaves turning red in August! Fall is just around the corner.