We spent 2 weeks in Amarillo visiting my dad. Dad will be 97 this August and still lives alone and drives. (For those of you driving through Amarillo, look out for a grey car.) Actually he does pretty well, doesn't drive at night and stays close to home.
Our RV site at Ft. Amarillo RV Park.
My brothers John and Steve, and Steve's wife Vicki, came in for a few days also.
Steve, Hubert and Jeanie
John and Jeanie
Vicki, August, Troy, Lanta, Hillary and Steve (Troy is Steve's son).
All the time we were in Amarillo we were nervous about hail. It's a common occurrence there and we were right in the season for it. Tornadoes, flooding, hail were all around us, but we managed to get away unscathed. Little did we know what we were in for and it had nothing to do with the weather.
After a night in Oklahoma City, we were passing through Springdale, Arkansas about 40 miles from our destination of Eureka Springs. Stopped at a red light, at the edge of town, a car pulled along side of us and motioned to roll down the window. We did and the guy told us our rig was smoking. We immediately pulled in to a bank parking lot and removed the smoking tire. Tom could tell we had blown the bearings and now there was no way to even put the tire back on or be towed with a missing tire. Did I mention it was Sunday afternoon. We called roadside assistance, but we knew there wasn't much they could do on Sunday, so we arranged for them to come out first thing Monday morning.
Now what? We were near a Wal-Mart, but we were afraid to drive on 3 out of 4 tires. There was a paved area behind the bank we thought we could back into, so Tom tied up the axle for a little support and we carefully backed up about 100 feet, unhooked and spent the night.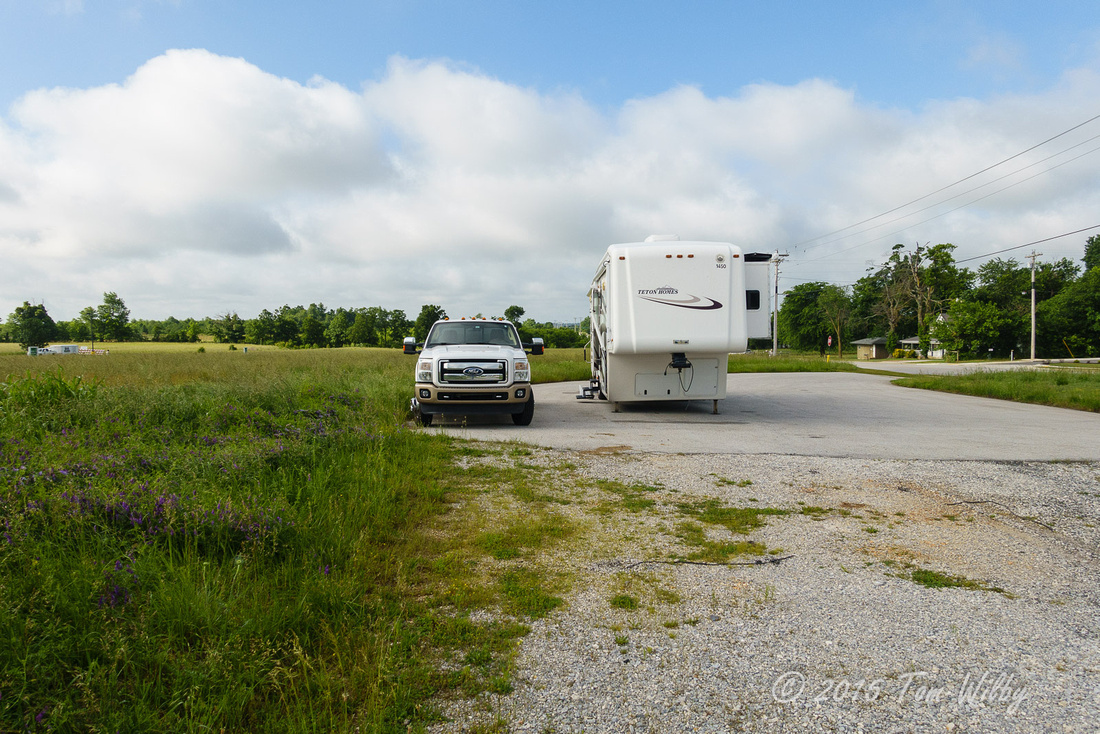 We were lucky to be near a paved lot where we could spend the night.
The end of the axle, the spindle, was ruined, so we couldn't replace the tire and had to drive on 3 wheels.
We thought the worst was over and, though there was more bad news to come, we were in a safe spot and had averted a fire that would have destroyed our home in minutes. If you have a fire in an RV there is no saving it.
On Monday morning we learned the spindle on the end of the axle was beyond repair and we would have to get to a shop. We couldn't put the tire back on so the mechanic chained up our axle as best he could and we limped to a shop about 3 miles away on 3 wheels. (Don't try this at home.)
They assessed the problem, determined we needed a new axle and started making calls. Of course they don't make that axle any more, so Dexter had to make a new one. Two weeks if we're lucky. We couldn't stay at the shop and couldn't drive far so we found a mobile home park a couple of miles away and felt we could make it there.
You know the saying "when it rains it pours"? Here it comes, Tom put the tire, that had come off, on the tool box behind the cab, as he didn't have any other place to put it. When we were turning around in the parking lot to leave, the front cap of the rig didn't have enough clearance behind the truck and squeezed the tire into the rear window. Now on top of everything else we had a broken rear window and damaged fiberglass on the rig. And we were only worried about a little hail a few days ago.
Even though only one section was broken, you must replace the entire window including a new motor for the center section.
But, at this point we knew we were safe and everything else could be repaired. We got the window replaced the next day, taped up the fiberglass and eleven days later we had our axle replaced and we were good to go.
Yes, it was a pain in the neck and expensive, but we were really lucky. We found it before the rig caught on fire; we were still in town, not on the highway or on the rural roads with no safe place to pull over and spend the night; and finally we were close to a shop that could do the work. Still not sure why the bearings failed as we repack them regularly, but stuff happens, I guess. Tom and the mechanics think a loose nut on the wheel could cause the wheel to wobble and eventually wear the bearings. Can't say for sure, but we'll be checking those nuts regularly just in case.
All together we spent 2 weeks in Springdale. We visited nearby Fayetteville, home of the Razorbacks.
University of Arkansas stadium.
Old Main, the original building at the University is from 1875.
A University tradition is to record the names of the graduates on the sidewalk.
Friends Walt and Renee were visiting nearby, so we met them for lunch.
Met Renee and Walt at AQ Chicken in Fayetteville.
We drove to nearby Bentonville and visited the new Crystal Bridges Museum of American Art. It's a beautiful museum and we really enjoyed it.
The museum surrounds a pool and is interesting in itself.
Jeanie at the museum
Statue in the museum.
This guy didn't have much to say.
Next Month: Eureka Springs!