Between Charleston and Sullivan's Island is an area called Shem Creek. We've been there a couple of times because it's very picturesque and Tom loves the shrimp and grits served at the Water's Edge restaurant .
Shrimp boats at Shem Creek.
We toured the Joseph Manigault House in Charleston. Built in 1803 in the Federal style, it was used as a city house for the family of a weathy planter. Plantation owners often owned second homes closer to the bay to the take advantage of the cooler breezes in the summer.
Joseph Manigault House.
Joseph Manigault House.
Joseph Manigault House.
The Heyward-Washington House was built in 1772. When President George Washington visited Charleston in 1791 he had several invitations for lodging. To avoid favoritism, he chose to rent a house and this one was available.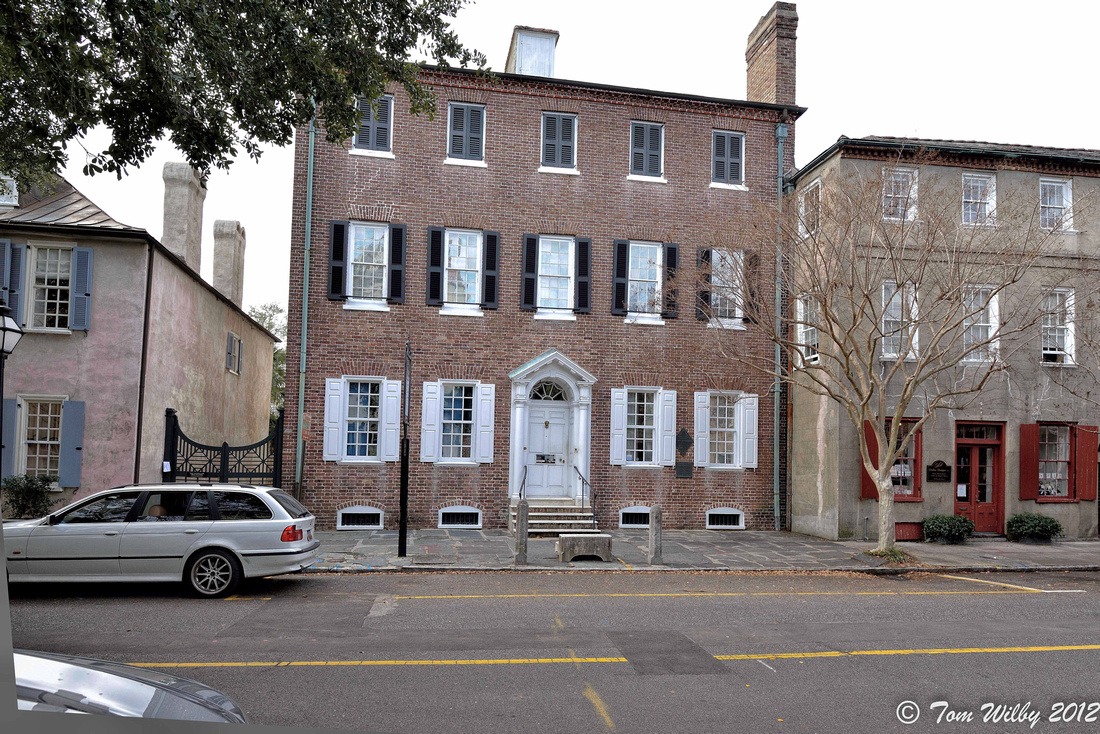 The Heyward-Washington House.
The Heyward-Washington House.
Built between 1768 and 1771 by the British Colonial Government, the Old Exchange and Customs House is full of early American and South Carolina history.
Old Exchange and Customs House in downtown Charleston.
The first floor was originally open-air and used as a goods exchange and customs house. The second floor was the site of such events as the election of South Carolina delegates to the 1st Continental Congress. In 1791 President Washington visited on his Southern tour and mentions the ball he attended here in his journal.
Great Hall, where George Washington danced with the ladies.
The cellar was originally used to store goods, but was later used by the British as a provost (jail) to hold prominent patriot citizens they feared would rebel against the crown.
Provost dungeon.
When ships arrived in port they emptied their holds of stone ballast and eventually that ballast became road material.
Cobblestone from ship's ballast used on a road next to the Old Exchange and Customs House.
On nearby John's Island we found the Angel Oak. Named after the family on whose property it grew, the property is now a city park. The live oak is estimated to be 300-400 years old with a trunk circumference of 25.5 ft.
Angel Oak
Angel Oak
In the area around Angel Oak you might be lucky enough to spot a white squirrel. Tom spotted one and he was able to get a shot.
White squirrel
Also on John's Island is John's Island Presbyterian Church founded by English, Scottish and French settlers about 1710. The original sanctuary was built about 1719 and enlarged in 1823.
John's Island Presbyterian Church
John's Island Presbyterian Church decorated for Christmas.
We were fortunate to have a visit by Kate, Trevor, Morgan, Keegan and Tyler. Though it was a quick visit, we enjoyed sharing a little bit of Charleston and the light show.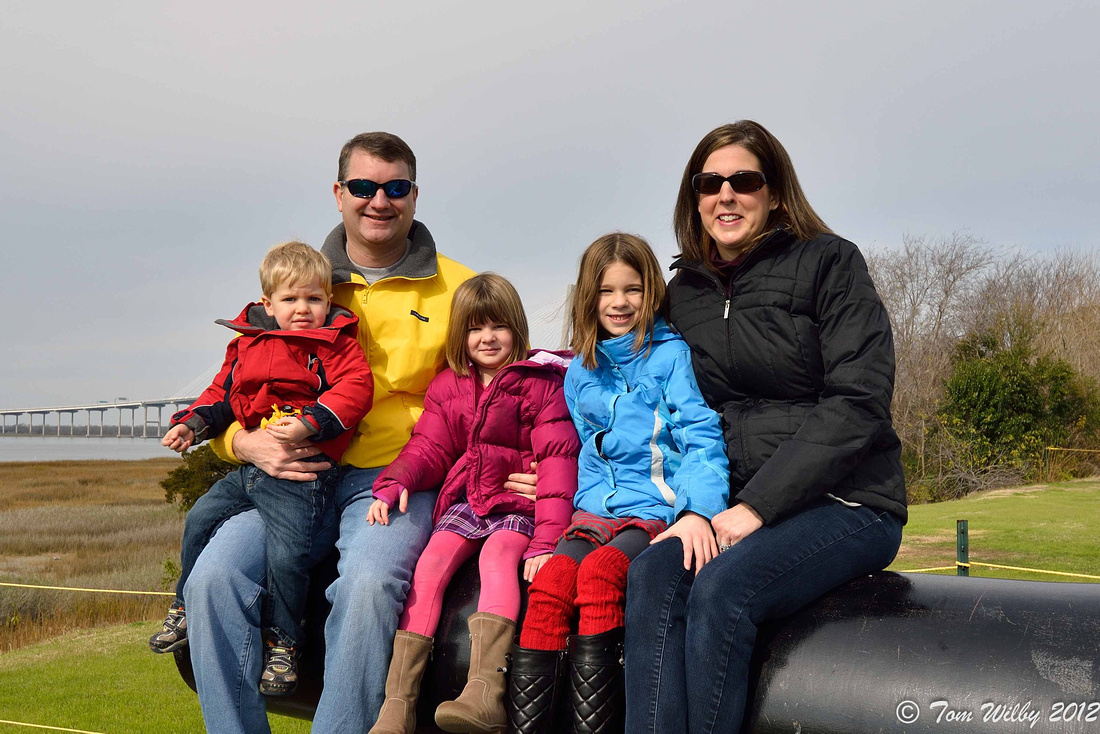 Tyler, Trevor, Keegan, Morgan and Kate at the Yorktown.
Can't have a visit to a campground without roasting marshmallows, always a hit with Morgan and Keegan.
Next month - Florida.