People often ask us how we decide where to travel. While we were in Bar Harbor, someone told us about Sunset Point Campground in Lubec, Maine. It's on the Bay of Fundy and the easternmost point in the US. (The Bay of Fundy has the highest tides in the world reaching as high as 53 ft.) We were able to get reservations, so we headed there.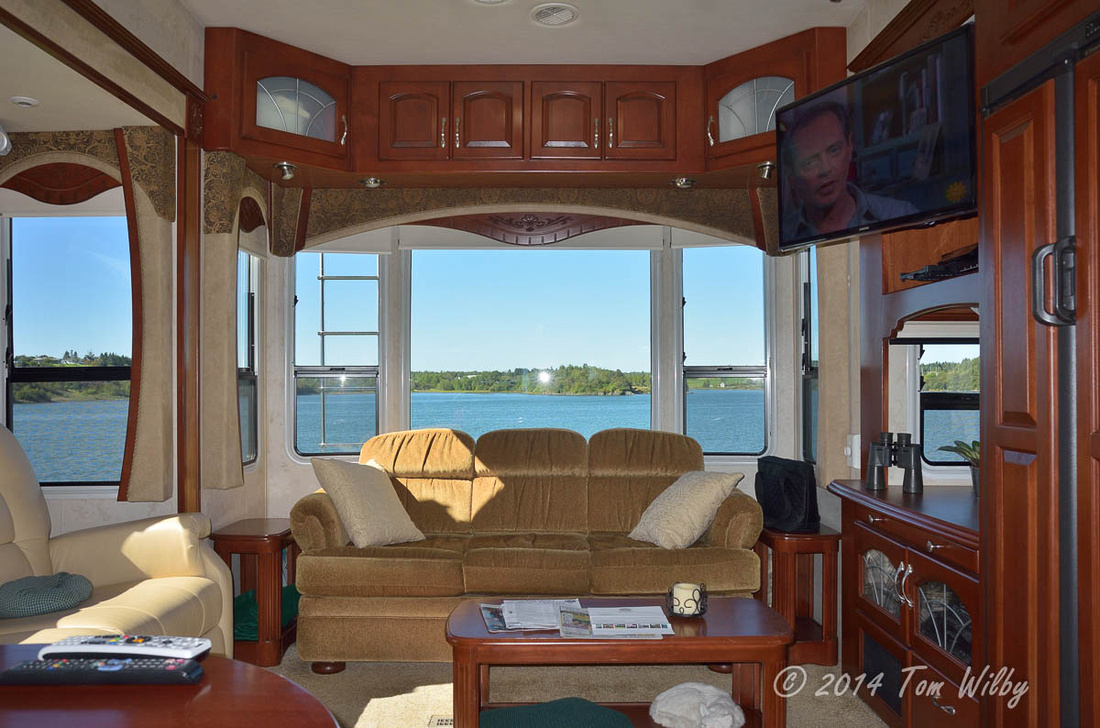 Our view in Lubec at high tide.
Lubec is a tiny town, but gets tourists because it's an entry point to Campobello Island, New Brunswick, Canada.
West Quoddy Lighthouse near Lubec.
Beautiful views from trail near the lighthouse.
Restaurant in Lubec.
The tiny island of Campobello is the site of the East Quoddy Lighthouse and Campobello (FDR's summer home).
East Quoddy Lighthouse. Sandbar is underwater at high tide cutting off the lighthouse from the mainland.
Roosevelt Campobello International Park maintains the Roosevelt summer home.
We were scheduled to be in Nashville at the end of the month, so we needed to head southwest. We decided to spend a couple of weeks with friends in Ohio, so drove west through New York.
I learned there was a pottery museum in Syracuse, so why not stop there. Syracuse China is out of business, but a big part of the history of the town. When Syracuse China closed, they donated truckloads of dishes to the museum. The museum has a nice display as well as a private tour of many of the donated items. We were able to get the private tour and I was thrilled to see so many beautiful examples of Syracuse China (originally Onondoga Pottery).
Our tour of the private collection.
Early Onondaga Pottery was porcelain and marked Imperial Geddo.
Syracuse China produced a pattern called Blue Plum that was only available for purchase by employees during the Christmas holidays.
Syracuse China produced restaurant ware. This style is call shadow ware.
Syracuse city hall.
Last of the weigh stations on the Erie Canal in its actual location. The canal is now a road through town.
We spent 2 weeks in Springfield, Ohio with friends Jerry and Ruth. Then on to Nashville for a TCI rally.