Before we left Traverse City, MI we met up with Teton friends, Arnie and Manette, and they traveled with us to Mackinaw City where we joined Jerry and Ruth, Joe and Darlene and Phil and Connie.
We found a nice RV park in Mackinaw City with a great view of the Mackinaw Bridge which connects the lower and upper peninsula.
Mackinaw Bridge at sunset.
We took our bikes on the ferry to Mackinac Island and rode completely around the island (twice). (If you're not familiar with the area, Mackinac is pronounced Mackinaw.)
Arnie and Manette.
Manette, Darlene, Joe, Connie, Ruth and Phil.
Ferry and Grand Hotel on Mackinac Island.
No cars allowed on the island.
Ruth and Jerry.
We then traveled to Houghton, MI in the UP (upper peninsula) with Jerry and Ruth and Joe and Darlene. Houghton is Ruth's hometown so she made reservations for us at the city park on the Portage Canal.
Our campsite at Houghton, MI with crab apple tree.
We soon learned that people from the UP think they have their own "state" and call themselves Yoopers (rhymes with troopers). Here you'll find a large population with Finnish heritage and lots of words you can't pronounce, like Pannukakku, a pastry. Speaking of pastries, the Fins often add the spice - cardamom - to their baked goods. It's delicious!
Houghton Bridge.
Tom, Jeanie, Faye, Joe, Ruth, Darlene, Jerry and Skip.
We were thrilled with the location and visited the Keweenaw Peninsula a couple of times. We stopped at a popular snow gauge that shows the usual and record snowfalls of the area.
Darlene and Joe under the snow gauge.
This is copper mining country, so at the tip of the peninsula is the town of Copper Harbor as well as the beginning of US41. US41 is a well traveled road in Florida, so it was interesting to see where it starts.
Northern end of US 41.
Eagle Harbor lighthouse on Keweenaw Peninsula.
Eagle Harbor on Keweenaw Peninsula.
We especially enjoyed visiting with Ruth's brother and sister-in-law, Skip and Faye.
Fay and Skip in front of their house.
Another Finnish tradition, the sauna, is common in the UP and Skip and Faye use theirs regularly.
This 100 year old sauna belongs to Skip and Faye.
We didn't want to leave Houghton and our friends, but it was time to move on to Wisconsin. In Wisconsin, we stayed in the most northern part of the state at the Red Cliff Indian Reservation (Legendary Waters Casino). We took a cruise of the Apostle Islands from nearby Bayfield. The Apostle Islands are 22 islands that make up the Apostle Islands National Lakeshore.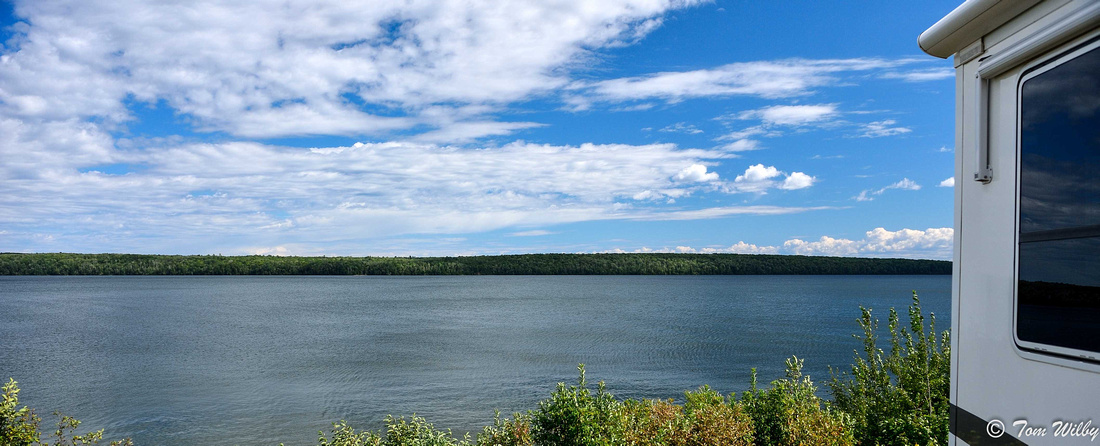 View from our campsite in Red Cliff, WI.
Apostle Islands.
Devils Island.
Concert on the grass in Bayfield, WI
We visited Door County, Wisconsin many years ago, so we wanted to go back. Door County is a peninsula jutting in to Lake Michigan northeast of Green Bay. It has miles of beautiful coastline and acres of farmland.
Beach in Door County.
Ferry from tip of Door County peninsula to Washington Island.
Tranquil scene in Door County.
As a side note: We were recently offered, and accepted, a position of Camp Hosts at James Island County Park in Charleston, SC for October, November and December. This county park puts on a light show (displays) during the holidays (see our Blog for last November) and the Camp Hosts help with screwing light bulbs and light duties like directing traffic. The job requires 20 hours of work (between us) in exchange for free hookups and various local attraction passes. http://www.ccprc.com/index.aspx?nid=140